Jess Martinez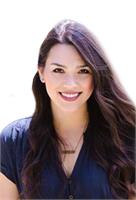 Jess moved to San Diego from L.A. in 2012. She really fell in love with fitness in 2008. Spinning and running became a favorite instantly for her which led her to pursue teaching.
In her spare time she enjoys cooking, spending time with family and friends, but most of all traveling as much as possible with her husband!
Jess Martinez instructs the following:
The best all around cardio/full body strength training workout out there!
Start your workout out with a jam packed 30 minute cycling session. Take on several intense hill climbs to improve endurance and increase strength. The goal for each class is to travel a collective distance so each and every ride you can get stronger and work harder for longer.
Second part of the program will help meet your goals head on. This high intensity metabolic conditioning workout takes on all three energy systems and acts as a fat burning incinerator to ensure results. The workout changes every single day, keeping the body in constant shock, which drastically improves muscle tone and strength.
The workout incorporates suspension training, resistance training and bodyweight training; this carefully designed program will have you fitter and stronger in only 30 minutes!