Sally Guenther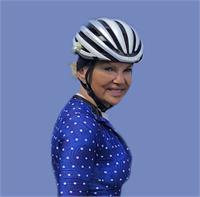 You're as likely to see Sally cycling up the PCH (or through Spain, Italy, France, or French Polynesia) as leading a fitness class. Sally knows firsthand that fitness is not just about studio time or how good you look in your jeans and tank top (though, as a former founder of a 4000-member health club and 30-plus-year fitness expert, she's got you covered there). A consummate cyclist, Sally enjoys riding over 150 miles a week and has competed in many centuries and double centuries. Sally's spin, fusion, and barre classes are designed to improve your quality of life. And, it's an improvement you can measure as she guides you in using the spin monitor and other benchmarks to set and achieve goals. Sally carefully curates her music and takes the time to choreograph—the seamlessness of her classes and the way the time disappears in a flash of movement and fun is no coincidence! You're going to want to ask her for her playlist before heading out into the world with improved strength, mobility, and energy!
Sally Guenther instructs the following:
From Aerosmith and Billy Idol, to Sonny and Cher: The Rock Ride is a 60-minute cycle class featuring rock music from the 60s through the present. Class features songs you just can't help singing along and rocking out to in your car!