Dr. Chil & Dr. Stephanie From Skin Naturopathic Clinic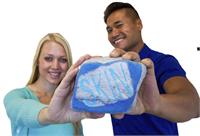 Skin, A Naturopathic Clinic is located in Encinitas, CA. The Naturopathic Doctors, Dr. Chil and Dr. Stephanie, focus on optimizing patient's health, natural medical aesthetics, digestive health, pain management, IV therapy, and nutritional injections. All of these services are tailored to the patient's individual needs based on scientific lab work and health analysis.
skinnaturalmedicine.com
Dr. Chil & Dr. Stephanie From Skin Naturopathic Clinic instructs the following:
Fat Burn Boost 35 This power shot is the perfect pre-workout boost to support healthy weight loss through its fat burning effects. This shot may help increase energy, enhance the immune system, metabolize fat, and reduce blood cholesterol. The Fat Burn Boost contains B12, MIC (lipotropics) and B complex. B12 Power Boost 25 Low energy? Memory loss? Tingling of the hands or feet? Clouded thinking? Vegan or Vegetarian? B12 can help to boost metabolism, increase energy, enhances mood and provides mental clarity. B12 is responsible for producing red blood cells to keep your nervous system functioning properly. We use pharmaceutical grade methylcobalamin. It's the bioactive and methylated form that directly affects your brain function. Dr. Stephanie Hendershot is a licensed Naturopathic Doctor in the state of California, who received her Doctorate from Southwest College of Naturopathic Medicine in Tempe, Arizona. She received her Bachelor of Science degree from San Diego State University in 2006, majoring in Sociology with an emphasis in Crime and Control. After working in Law, Dr. Hendershot felt compelled to follow her passion for helping others and was drawn to becoming a Naturopathic Doctor, of which she knew was the perfect fit for her. She has always believed in using natural modalities to treat herself and wanted a deeper understanding of using age old remedies combined with modern science. Dr. Hendershot believes wholeheartedly in treating the cause of illness, restoring vitality, and preserving health. Dr. Hendershot looks forward to helping you on your journey to health through wellness and pro-active healthcare! Purchase in store for a special discount! You do not need to sign up ahead of time, you can walk in anytime between 8am-10:30am.