Lynda Turner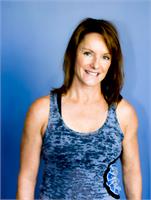 Lynda was born and raised in South Africa then moved to London where she lived for four years and traveled around the world. There was a brief return to South Africa before Lynda moved to Rhode Island with her husband in 1997. After years of competing and coaching her friends in half-marathons, marathons, triathlons and a few half-ironman's – she decided to turn her passion for fitness into a career. Lynda is a certified Personal Trainer, Spin Instructor and Weight Loss Management Specialist. Her passion is health, wellness, fitness and nutrition. She lives by the motto: Fitness is your King, Nutrition is your Queen and together they create your Kingdom – Jack Lalanne
Lynda Turner instructs the following:
The best all around cardio/full body strength training workout out there!
Start your workout out with a jam packed 30 minute cycling session. Take on several intense hill climbs to improve endurance and increase strength. The goal for each class is to travel a collective distance so each and every ride you can get stronger and work harder for longer.
Second part of the program will help meet your goals head on. This high intensity metabolic conditioning workout takes on all three energy systems and acts as a fat burning incinerator to ensure results. The workout changes every single day, keeping the body in constant shock, which drastically improves muscle tone and strength.
The workout incorporates suspension training, resistance training and bodyweight training; this carefully designed program will have you fitter and stronger in only 30 minutes!