Jana & Johnny Cycology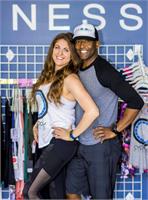 Jana & Johnny are the founders of Cycology Fitness! One or both are instructing this class.
Jana & Johnny Cycology instructs the following:
Using Pilates principles, Inferno Pilates is a challenging, full body, low impact, high intensity workout. It is performed on a yoga mat. Hot Pilates strengthens muscles and burns fat — all without the pounding of a high impact workout.